The need for effective collaboration and connectivity is at an all-time high in the business world, with around 75% of employers rating teamwork and collaboration as 'very important' - the digital world is becoming the new collaboration space. Intranets have been around for some time now, from being solely used as a company information tool to now having the capacity to engage and connect team members, among a vast array of other features.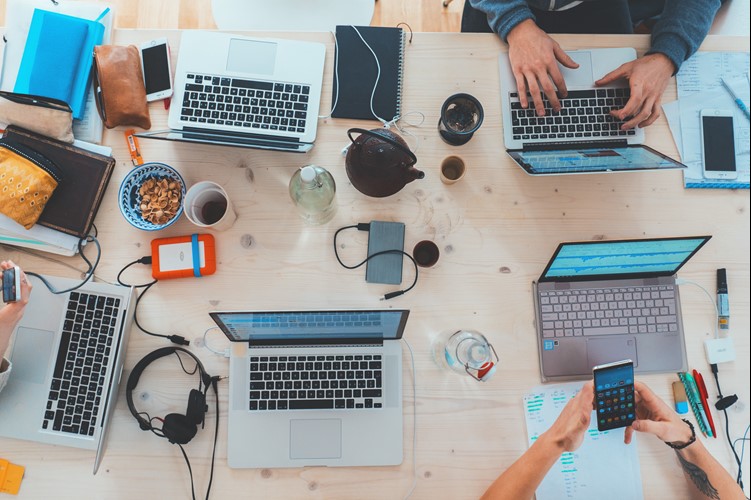 Technology plays a vital role in modern-day communication matters, although many businesses are familiar with collaboration platforms, an intranet provides productivity and effectiveness in one singular platform. Having social platforms and collaboration tools in a designated place provides ease of use and efficiency for your employees. So why should you use SharePoint for your intranet? SharePoint offers adaptability and customisation tools to match your business needs. Here at Blacklight, we specialise in SharePoint solutions, that's why we have compiled a few reasons why you should be using SharePoint for your intranet: 
Engage easily with users

/internal communications

 
SharePoint intranet provides a social platform for users to connect and chat with effective internal communications. With integrations in calendars, internal chats and apps to provide feeds and discussion boards – SharePoint encourages user-to-user interaction in a simple, easy-to-use manner.
Organisations small or large face the issue of document management. Microsoft SharePoint is recognised for its ability within the document management world, currently standing as the ruling DMS globally – the features are implemented within your intranet.  
Like other Microsoft products, a SharePoint intranet is no different when it comes to comparing features and integration with other products. Due to SharePoint's initial embedded feature with Office 365 – the intranet can be easily integrated with other Office applications; such as Teams, Power BI and Dynamics. This integration makes for an effective platform, allowing you to utilise your intranet to the fullest. For an even smoother experience, SharePoint intranet also provides third-party integration with relevant apps for a customised solution perfect for your business. 
Alongside Microsoft integration, SharePoint intranet is also highly customisable, allowing for out-the-box tools to be used to customise your platform to meet your business needs entirely. Here at Blacklight, we specialise in designing and delivering a fully customisable intranet to meet your business needs. 
SharePoint runs on a subscription-based payment – with its implementation with Office 365, users will be required to have an existing subscription to the service where SharePoint is available. You can check out the payment plans on the official Microsoft website here. SharePoint's payment plans are flexible in their sizing and requirements – meaning you can select a plan and user totals to fit your business and its requirements. As it is also based on a monthly plan, it allows you to review.  
If you are interested in creating a more collaborative work environment, here at Blacklight Software, we can offer you bespoke software and customisable Microsoft solutions for your business. If you are interested in our services or perhaps want some more information on how we can help you, call us on 01924 640350 or email us at sales@blacklightsoftware.com.