Bespoke software development refers to a specific software, application or platform designed and built to meet unique requirements entirely. Instead of using an 'out of the box' solution, where software is the same for everybody - bespoke software and the development behind it has unique benefits for organisations like yours. 
---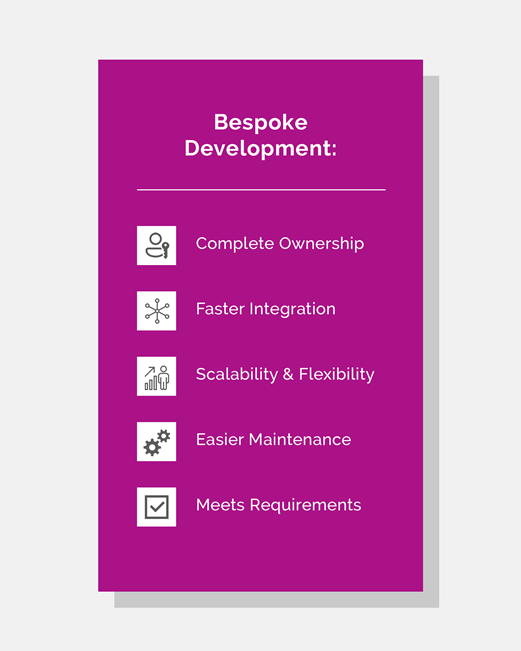 ---
1. Complete Ownership
Similar to a custom solution, bespoke software unique to your organisation gives you complete control. Easily integrate, expand and update along the way while ensuring all aspects participate towards your business processes and goals. 
2. Simpler Integration
With bespoke development comes a simpler, faster solution to integrating previous systems. 
When deciding on a new bespoke solution, all organisation requirements can be met due to the flexibility and potential of custom software. Alongside this, integrations with previous business systems and software can be proven simpler, faster and more cost-effective with the open flexibility of the bespoke software. Allowing you to further customise, extend and upscale your business processes and create a solution perfect for your organisation.
3. Scalability & Flexibility
With a solution that is tailored to your business, the ability to scale up your software solution is readily available. 
When creating a bespoke solution it's important to consider business growth and enable a system that can expand alongside our processes. Creating software from the beginning process allows organisations like yours to explore their potential and create a system, application or platform that can be easily scaled to their business needs.
The desire to change, upgrade or implement new features may also be present when dealing with a business-wide solution - which makes custom software that much more effective due to the ease and flexibility available when tailoring to your current needs. 
4. Easier Maintenance
Differing from classic 'out of the box' solutions, usually monitored and maintained by vendors, on-site infrastructure or a complicated external help desk - bespoke software development houses are responsible for all maintenance.
Here at Blacklight, we offer a live help desk service, available to monitor and descale any complications that may arise when the system is live while ensuring all users across the organization are able to successfully access their system. With the help of your chosen software partner, the pressure of maintenance and on-site infrastructure is taken away when investing in a bespoke solution. 
5. Meets Requirements
Finally, when investing in new technology and new software to serve organisation wide, it's super important to have your software meet all business requirements in order to successfully work alongside goals. 
With bespoke software, business analysts, developers, designers and project managers are available to assess your business needs and capture all requirements available in order to create a solution that identifies with your business. 
---
Bespoke software development has many benefits and investing in custom solutions tailored to your needs can provide your business with the freedom needed to grow and expand alongside new technology.
Here at Blacklight, we specialise in bespoke software development - specifically around the Microsoft technology stack. Learn more about us and our work here or alternatively speak to our team today to discover how we can unlock your potential with software development.