We know of mainstream rivalries between leading businesses; Microsoft vs Apple, Coke vs Pepsi, Adidas vs Nike – but what about Dynamics 365 vs Salesforce? The technology industry sees competition between leading organisations regularly, but the two leading cloud CRM platforms, Dynamics 365 and Salesforce are often a battle we all face when deciding which CRM provider will be on top.
Whether it's for your busy sales team, marketing department or finance specialists – CRM is proven to improve effectiveness. With 91% of medium sized companies now using a form of CRM software – a staggering $80 billion for customer relationship management is estimated in revenue by 2025. 
So, who are the leading CRM providers and what do they offer? Here at Blacklight, we have created a quick overview into the leading CRM giants: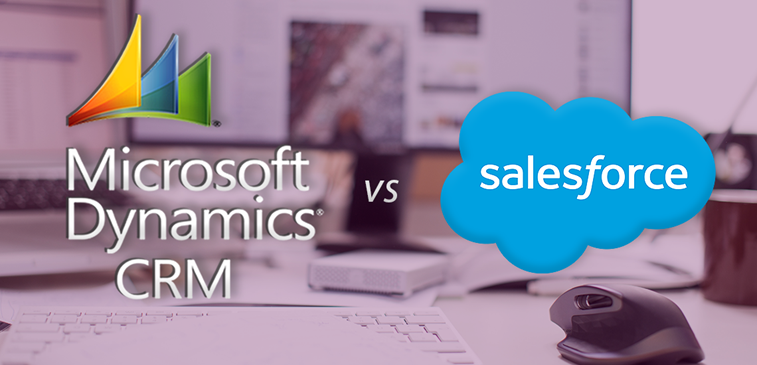 Microsoft Dynamics CRM
Created by Microsoft in 2016, Dynamics 365 is a customer relationship management solution providing segmented modules designed to benefit individual business areas.
Modules within Dynamics 365:
Dynamics 365 Sales: As one of the most popular modules within Dynamics, the Sales module for provides a simpler solution for users to monitor and track their sales processes and lead generation. With a 360-degreee view of sales interactions and activities, this module can provide clarity and effective transitions between sales conditions while boosting sales productivity and increase profitability with its advanced insights.
Dynamics 365 Marketing: The module provides businesses with the tools and features needed to successfully manage their marketing strategies and create and nurture more leads – through the ability to run targeted, multi-channel campaigns.
Dynamics 365 Customer Service: Provides an effective solution for users dealing with customers regularly. With the tools to provide effective customer service and track customer history, the customer service for Dynamics module provides agents the resources needed to produce efficient, quality service.
Dynamics 365 Field Service: Field Service provides the efficiency to deliver resources at the right time and right place. This module allows you to deliver consistent and quick solutions and resolve field service issues in an instant.
What makes Dynamics so good? Dynamics 365 offers the flexibility and customisation tools to make it your own. Alongside the implemented modules Dynamics also offers a fully customisable and unique experience which can be designed specifically for your business.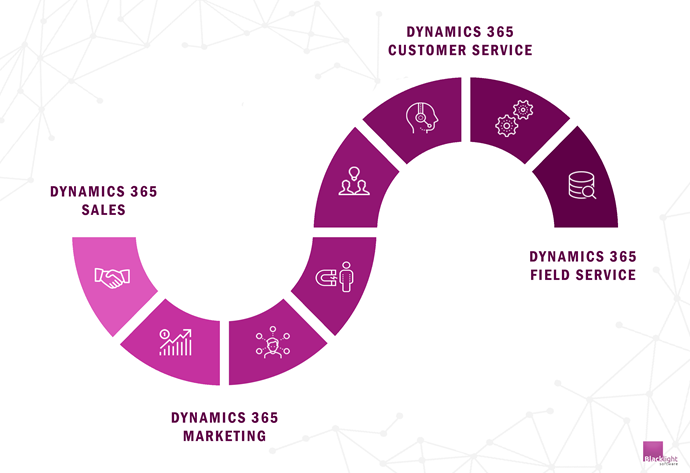 Salesforce
Salesforce, initially founded in 1999, is a cloud computing and social enterprise SaaS specialising in it's well known CRM systems. The organisation is best known for their CRM systems made up of different modules and clouds to meet business requirements:
Salesforce modules:
Sales Cloud: An individual cloud module designed to automate sales processes and assist sales managers and representatives throughout the sales journey, allowing you to track customer information and keep information relevant and up-to-date.
Sales cloud includes the following features:  
Accounts and Contacts
Marketing and Lead
Opportunities and Quotes
Approval and Workflows
Email and Productivity
Service Cloud: Service cloud provides an easier solution to customer service, providing quicker and deliver efficient support to customers.
Service cloud includes the following features:
Case Management
Call centre
Contracts & Entitlements
Salesforce knowledge
Salesforce Analytics
Marketing Cloud: A marketing automation software providing the tools and features for increased marketing efficiency through the creation of 1 to 1 customer journeys across channels.
Marketing cloud contains the following features:
Customer journey management
Drag-and-drop segmentation
1:1 content personalisation
CRM and cross-channel integration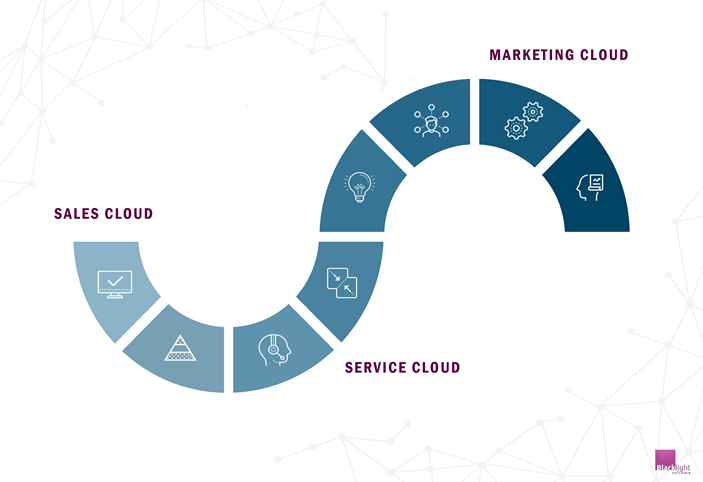 Pricing
Dynamics 365 CRM is recognised for it's affordable pricing and accessibility for small to medium sized businesses. Taken from Microsoft is a list of Dynamics Module pricing:
 

Sales

Marketing

Customer Service

Field Service

Enterprise
£71.60 /user/month

From £1,131.20 /user

/month

£71.60 /

user/month

£71.60 /

user/month
Salesforce pricing list:
| | | | |
| --- | --- | --- | --- |
|   | Sales Cloud | Service Cloud | Marketing Cloud |
| Enterprise | £120 /user/month | £120 /user/month | £3,200 /month/up to 10,000 contacts |
Benefits
Dynamics and Salesforce may seem similar, but each platform proves beneficial depending on unique business requirements:
Dynamics CRM:
Dynamics is completely flexible for organisations to utilise them in any way they want, whether it's through specific modules or personal customisation, Dynamics can be modified to match business CRM requirements. 
The platform provides the accessibility for smaller-businesses with it's moderate price range, ultimately proving cheaper than Salesforce per user per month. 
It's initial integration with existing Microsoft platforms provides the familiarity and synchronisation between platforms. With integration between Outlook, Office 365 and Power BI - Dynamics proves beneficial for organisations already used the Microsoft package.
Salesforce:
Salesforce is recognised for it's customer orientated attitude, providing a customer-centric attitude based in-house, Salesforce alternatively to Dynamics hosting training through Microsoft Partners. 
Similar to Dynamics, Salesforce provides a range of individual modules suited for specific business needs. With it's Sales Cloud, Service Cloud and Marketing Cloud each including flexible features - the platform provides a solution.
Ultimately, Dynamics and Salesforce both offer industry leading qualities and similar subscription based payment processes. With the decision on CRM being an important one, we're here to help! If you're struggling to make a decision on your future CRM system, feel free to give us a call. Here at Blacklight, we provide Microsoft solutions and bespoke software development suited specifically for your business.
If you're interested in our work, feel free to call us on 01924 640 350 or email sales@blacklightsoftware.com for more information on how we can enhance your organisation.