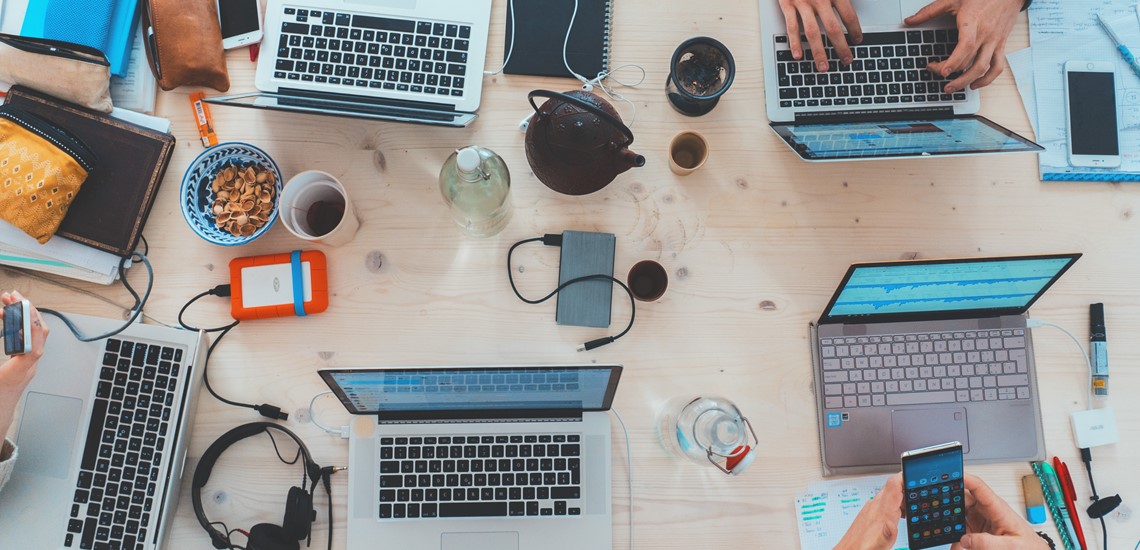 Transformative technology is taking over the workplace, providing the conventional change businesses need in this digitally-fuelled society. With 70% of companies either having a Digital Transformation strategy in place or currently working on one – the desire for new and updated technology is real. As 40% of all technology spending in 2019 has gone towards digital transformation, organisations are beginning to accept the importance of digital change.
If you haven't yet invested in this huge turnaround then you may still be wondering;
What exactly is Digital Transformation?
Digital Transformation is the change and shift in digital performance and technologies to provide a more effective solution for businesses. Whether it's through software development, digital updates or a complete renovation of technologies within the business – digital transformation is a growth strategy that businesses are striving for. With trends in the digital world constantly evolving and updating, 2020 is due to see a hit in:  
Multi-cloud Computing
IoT
Fuelling business performance with APIs
Artificial Intelligence and Machine Learning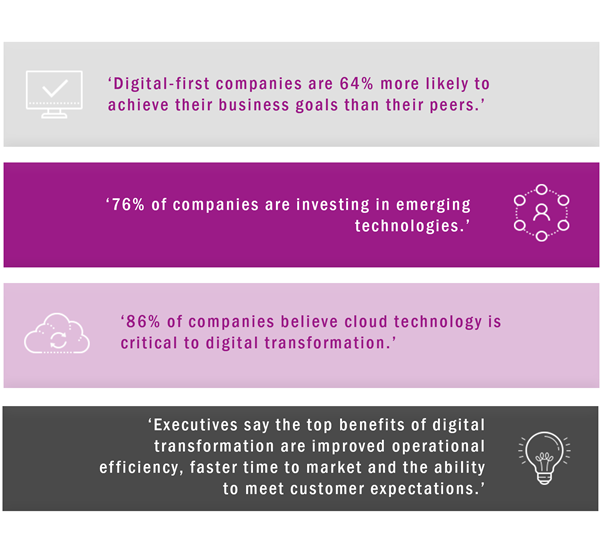 Why is Digital Transformation Important?
Digital Transformation never ends. Whether it's the beginning of your journey, downloading the latest update or simply improving existing solutions – the transformation journey is something that can evolve a business completely. With this, comes major benefits for organisations:
Encourages collaboration 
Digital Transformation doesn't have solely external benefits. Internal teams can improve collaboration and communication through your Digital Transformation efforts. With updated technology and new and improved solutions – teams can communicate freely and easily across departments. Check out our post on how Microsoft Technologies can also improve communication across the workplace.
Transform customer experience 
With a huge growth in digital technologies, comes a huge growth in customer service and experience. With social media, mobile apps, location tracking and more, companies can reach their customers in a much more diverse and simplistic way.
The digitalisation of business operations 
With a digitalised business comes productivity. By going digital – businesses can bring together their processes and operations alongside their workforce.
Increase agility and innovation 
In the business world, agility means the ability to develop your plans and solutions quickly and efficiently around growing processes. With 68% of companies ranking agility among the top three digital transformation initiatives – organisations must be prepared to adapt and evolve with digital trends.

What is the Digital Transformation Expo?
DTX Manchester is an event acknowledging the importance and relevance of digital change throughout the workplace with presentations and exhibitions across a 2-day event.
'This is an event for IT and business leaders and architects, cyber security experts, data scientists, and software engineers from businesses of all sizes - including those involved in Cloud, network infrastructure, AI, DevOps, cyber security, data analytics, unified communications and IoT.'
And why are we telling you this? Well, our very own Senior Office 365 Consultant Dylan Hayes will be speaking at the event on the 4th & 5th of November! Speaking on Microsoft Teams, Dylan will look into using the full potential of Microsoft Teams with a fun superhero twist, including:
How has Microsoft Teams got this far
About using Microsoft Teams effectively
About using customising Microsoft Teams to do more
About the direction, Microsoft Teams is heading
You can check out his full agenda here.
Alongside Dylan, additional members of Blacklight will also be attending the event - be sure to catch us for a chat on all things Digital Transformation! 
How we can help
Here at Blacklight, we specialise in bespoke software development and Microsoft resolutions. Whether it's through document management solutions, increasing sales leads through Dynamics CRM or bespoke content specifically for your business – our expertise can support your digital transformation journey. Feel free to give us a call at +44 1924 640350 or email our team at sales@blacklightsoftware.com for more information on how we can assist with your transformation.