We created Hackathon For Housing to recognize the ongoing change and developments in technology, specifically within the Social Housing sector. The growing desire for improved business processes, integration of platforms and cross-device access – the Social Housing sector, in particular, is seeing increased pressure to improve technology to meet customer expectations, with only 31% of companies today being experience-led. 
As a leading Microsoft Gold technology partner, our mission is to inform and guide with knowledge and expertise in technology. We use our partnership and expertise to allow businesses to explore the capabilities within digital and IT while delivering solutions to meet requirements and achieve business objectives. 
That is why we created #HackathonForHousing! Working closely with our Social Housing customers, we recognized the need for technology changes and what better way to do this than through a hackathon competition?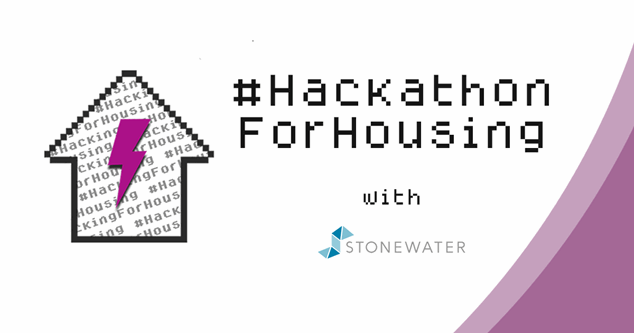 Our first hackathon event was held on Friday 11th December, alongside one of our Social Housing customers, Stonewater.
Stonewater is a social housing provider, with a mission to deliver good quality, affordable homes to people who need them most. They manage around 32,500 homes in England for over 70,000 customers. Working together for the hackathon event, we were able to distinguish some Social Housing related challenges to solve using Microsoft technology and platforms. Encouraging the exploration of new technology and how it can contribute to business processes.
As a Microsoft Gold Partner and hackathon host, we chose to explore the capabilities within Microsoft PowerApps. PowerApps is a suite of Microsoft tools that allows technical and non-technical users to create, manage and share custom apps that easily connect to data. With its friendly interface, mass integrations and unique functionalities – PowerApps was the perfect fit for the competition! Learn more about PowerApps and its business benefits here.
 'It's a fantastic interface for developing apps, the range of things you can hook it up to behind the scenes and the way you can create things is really impressive.'
Hackathon For Housing kickstarted with a demo-style, follow-along tutorial from the Blacklight team. Led by our Microsoft 365 expert & Senior Microsoft 365 Consultant – Dylan Hayes. We introduced the group to Microsoft PowerApps, its functionalities, a tour of the interface, Microsoft integration tools and just exactly how this application can help complete the challenges ahead.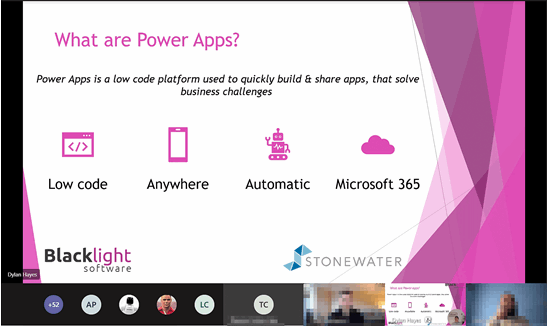 The Stonewater team were split into 10 separate teams/groups, each working on their mission to complete within the 2-hour time frame, to complete a version of their app including relevant integrations, design and data and finished off with a presentation on just exactly how their app meets the mission brief and how they made the app. To ensure our teams were confident in their challenges, we assigned our very own Blacklight experts as mentors to each team. 
'It's been a great day, Ben from Blacklight has been a brilliant mentor.'
The teams and their chosen missions consisted of:
Team 1

- Environmental Impact

Team 2

– Health and Safety Risk Assessment

Team 3

– Fly Tipping

Team 4

– Employee Welfare

Team 5

– Parking Permits

Team 6

– Environmental Impact

Team 7

– Health and Safety Risk Assessment

Team 8

– Fly Tipping 

Team 9

– Employee Welfare 

Team 10

– Parking Permits
The teams were eager to show their creative side, assigning team roles and taking direction on the project for the next 2 hours. Throughout the challenge, teams were able to explore the PowerApps interface, while also experimenting with its intelligent integration features.

Team 1 were keen to explore the integration features PowerApps has to offer. Working with SharePoint and Power Automate to create a mobile app that can calculate and monitor an individual's carbon footprint within work-related journeys.
With consistent integration features available within PowerApps, the team were able to create a new SharePoint Online list, used to integrate the data from Microsoft SharePoint directly into the PowerApp. Inputting lists to collect the journey start time, end time and distance travelled allowed the app user to input the relevant data, ultimately working on calculating the Co2 emitted from their work journey.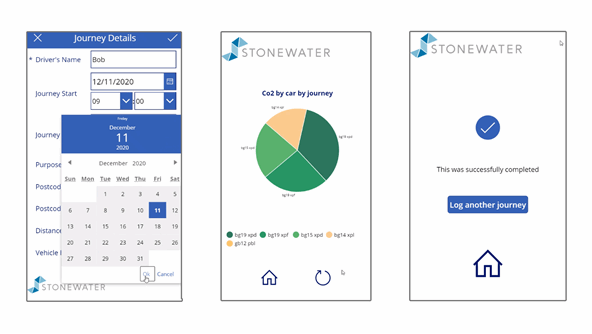 Microsoft Teams are set to introduce new features to enable PowerApps to be built and deployed inside of Teams. This includes bots that can respond to questions. Team 9 had the mission to create an application to let people know how they are feeling. The application would allow staff to report how they feel and, based on their answers, offer further assistance. The challenge saw Team 9 use integrations within PowerApps. Using Virtual Agent and Power Automate to create automated workflows, whereby questions would be asked and dependent upon the response, a flow would take the user to the appropriate decision.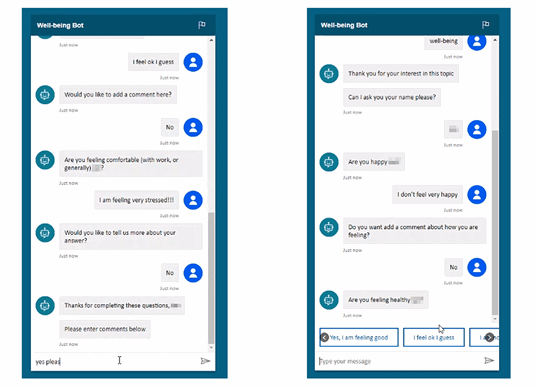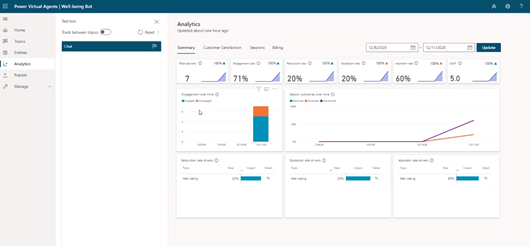 Our challenges were designed with real-life scenarios in mind, we recognized the importance of creating missions that were relatable and realistic within the workplace, Social Housing industry and for the team at Stonewater. Experimenting with the features within PowerApps allowed creativity to flow and created awareness of new technologies that were of use within the Social Housing sector. 
'Opened the eyes of all the colleagues in this team, and the business in general.'
Our first hackathon event ended with a presentation session from each team, covering the apps created, integrations used and how they found working with Microsoft PowerApps for the first time. 
We want to say a huge thank you to the team at Stonewater for taking part in our first #HackathonForHousing event and congratulations to the winning team! 
Interested in our Social Housing solutions, hackathon events or bespoke software solutions? Get in touch with our team at sales@blacklightsoftware.com.